Every mother replaces her movie nights with story-time, shopping for herself with putting the kids' need first, club hopping with visits to amusement parks, me-time with play-time and much more. She is the ultimate provider. Mother's Day gifts is just around the corner and we are all set to make it special for all the mothers out there. Appreciating your mother and showing gratitude through behavior is the least that you can do but a little surprise, especially on such an occasion, doesn't hurt. Though every day should be named after their selfless being, let's begin with this one day and make it all the more special. If you are looking for Mother's Day Gifts that will bring a grin on your mother's face similar to the one she had when you were born, then we have got some amazing options that you can choose from.
Let's roll and pick!
1. Prep & Refresh
Gift your real lady love a gift box that she'll cherish every time she pops open any of the product. Curated especially to enhance the bath-time experience, this gift box comprises of six amazing products like red Clay & wild argan oil soap, green tea body wash, rose geranium and witch hazel facial mist, bio winter cherry lotion, day & night nourishing cream and a rejuvenating neem and tulsi face wash from brands such as Indulgeo Essentials, Raw Nature, The Soap Company, Organic Harvest and more. This kit is a great gifting option considering the inclusion of the amazing, result-driven products. It will not only freshen up your mother but will also tone and condition her skin perfectly.
2. Awesome – Blossom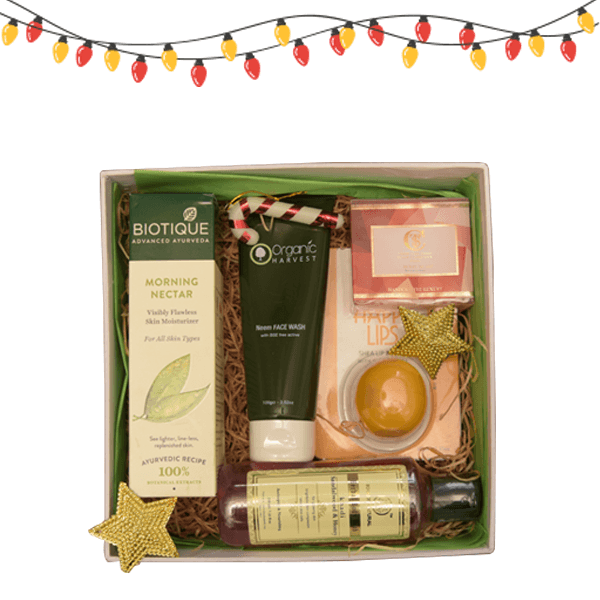 Wouldn't you do anything to see your mother smile at herself in the mirror for once? Well, that anything equals buying her this gifting box, that is curated just for her happiness. Packed with an herbal sandalwood and honey body wash, neem face wash, bio nectar morning body lotion, a luxury berry blast oil soap and shea butter lip balm, this box will be the secret of her healthy skin and the extra love you'll receive. And guess what? You get all this at a slashed and better price! So buy yourself some biased care and your mother some pampering products now.
3.Maintain & Make up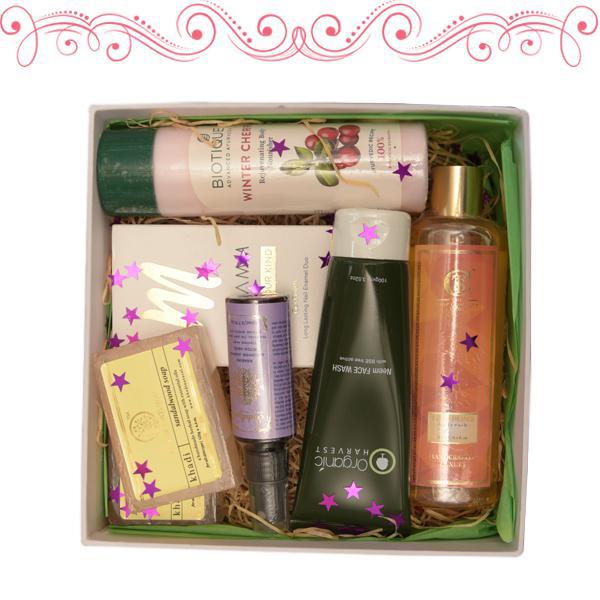 We bet some skin care and a little bit of new make-up is all you need to cheer your mother. This amazing and specially curated gift box has all that she needs for an 'out and about' moment. Gift your mom this box of goodies including neem and tulsi face wash, bio winter cherry lotion, tangy orange body wash, herbal sandalwood soap, an Arabian blooming witch hazel facial mist and 2 amazing shades of nail colors by nature-based brands such as MyGlamm, Biotique, Khadi Natural, Indulgeo essentials and more. Once you have your hands on this, be assured of a very happy Mother's Day gifts.
4.Raw Nature's Complete Kit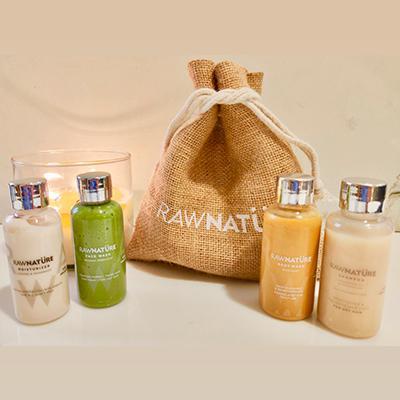 If your mom doesn't like experimenting too much but loves sticking with one brand then we have you covered in that case as well. Get her a wonderful kit by Raw Nature that will take care of her face, body, and hair. The kit includes a body wash, a face wash, and a shampoo. While the gold clay body wash in the kit will refresh and tone the skin, the green clay face wash will deliver minerals to her face and pull out impurities. The exceptional dry hair shampoo is also a brilliant addition as it is sure to make her scalp healthy and tresses shiny. Last but definitely a treat to apply, the ultra-light moisturizer will make the skin firmer and keep it hydrated.
5.Raw Nature's Full Skin Care regime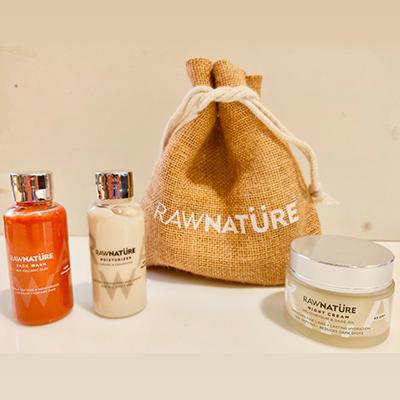 Has taking care of everyone around deprived your mother of the self-care time? Give it back to her along with this skincare regime gift box. Not only will this gift set, with the best of products by Raw Nature, make your mom happy but it will also reverse any signs of ageing your mother's day gifts might be nearing towards. The gift box comprises of a red clay face wash that is perfect for healing, softening and moisturizing the skin. The effective and active clay in the face wash is also known for reducing any fines lines, crow's feet and wrinkles. Another product that she'll love from the kit is the ultra-light moisturizer which is perfect for the summer season. The non-greasy lotion seeps in the skin quickly and hydrates it from within without leaving any oily residue behind. Great, right? We bet you also don't know how effective and amazing is the night cream. Packed with age-defying ingredients and properties, the night cream is a great addition to the regimen for nourishing the skin and bringing back the youthful resilience.
6.Women's starter kit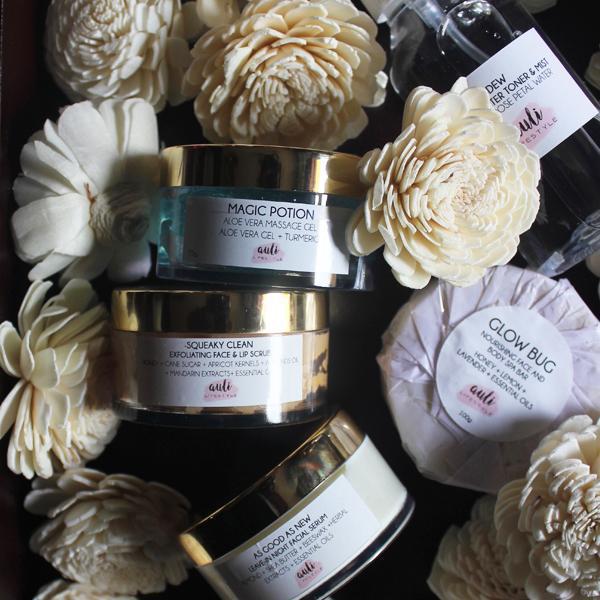 A lot of mothers are way away from layering products but it's never too late to start the journey towards better skin and healthy hair. If your mother is one of those too, then this women's starter kit by Auli Lifestyle is what you need to gift her on this Mother's Day. This daily ritual kit by Auli lifestyle brings along a bathing bar "Glow Bug', an exfoliator 'Squeaky clean', an aloe vera gel 'Magic Potion', a night time cream and serum 'As good as new', and a light-weight mist and toner 'Dew'. The products are all best-sellers from the brand and make an ultimate set for gifting.
7.Auli Lifestyle's bath kit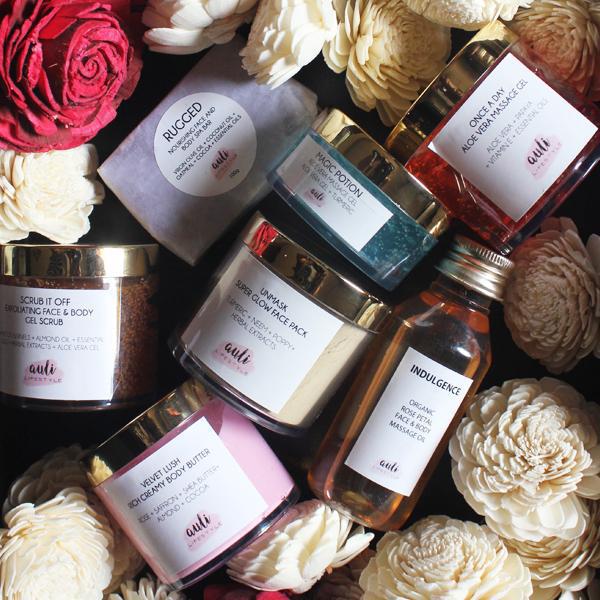 Cover all skin and body concerns your mother might be facing and fix them for her health and wellness. This bath kit by Auli Lifestyle includes everything amazing from body oil, exfoliator, cleanser, and face mask, to massage gel, and body butter. Pamper your mother by gifting her this all-in-one gift set and you'll have to not ask for favours until the products last.  
8.Essentials for your essential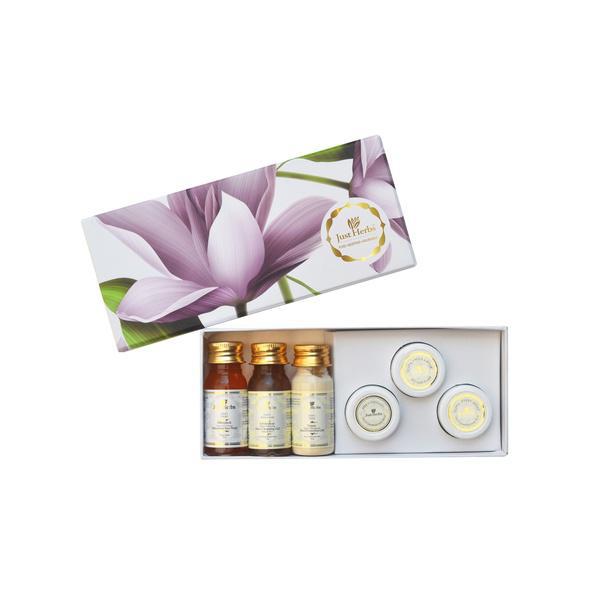 Is your mom having a tough time dealing with your mischiefs and oily skin? Well, Just Herbs can solve one of them. This Mother's Day, give your mother's skin a boost of refreshment and relief with some customized essentials for oily skin. This kit, including a rehydrating face wash, radiance-boosting scrub, nourishing massage cream, protein face pack, sun protection gel and a skin lightening night cream, is a savior. It covers everything her skin will need from the AM to the PM.
Also Read – Best Face Creams for Dry Skin
We are sure you have founded the best way to surprise her, it's now to shop the same. Click here.